1. We decided to replace the grass with concrete flooring to extend the basketball area. (Grass is always patchy and not pretty).
2. We ordered a small 4x8 side shed for our lawn mower and snow blower(yes, it's a must in the Midwest!) to free up some garage space. The shed is similar to the one above but in cream and dark brown to match our house.
3. I like the idea of a fire pit table. (Maybe a DIY or a freestanding one)
4. I definitely want to update the patio set by painting and replacing the cushions. I'm leaning towards orange-red/rust, tan and maybe navy just because I have those colors going on already in our backyard...
and I think the orange looks pretty against the stucco and brick of our house.
I'm undecided if I want to paint the set whitish and the cushions orange(with maybe contrasting piping)...

or the other way around...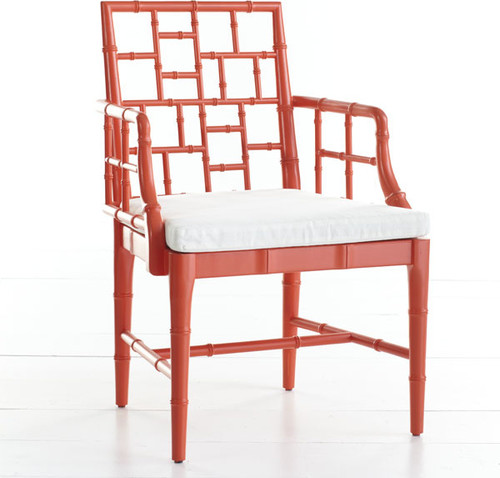 Asian Chairs
by
Dallas Furniture and Accessories
Wisteria
and maybe add some navy pillows?...
Coastal Living
I'm loving this
Waverly Sun N Shade Palm and Palace Fabric
(and only $10.98 per yard!)..
Or shall I go bold with the cushions?
Palm and Palace also comes in
orange
...
or
Greek key
...

Decisions, Decisions!!


And for the winner of the giveaway,
Congratulations to Kay! Yay!


Thank you all for entering and for all your support!


Have a great weekend!